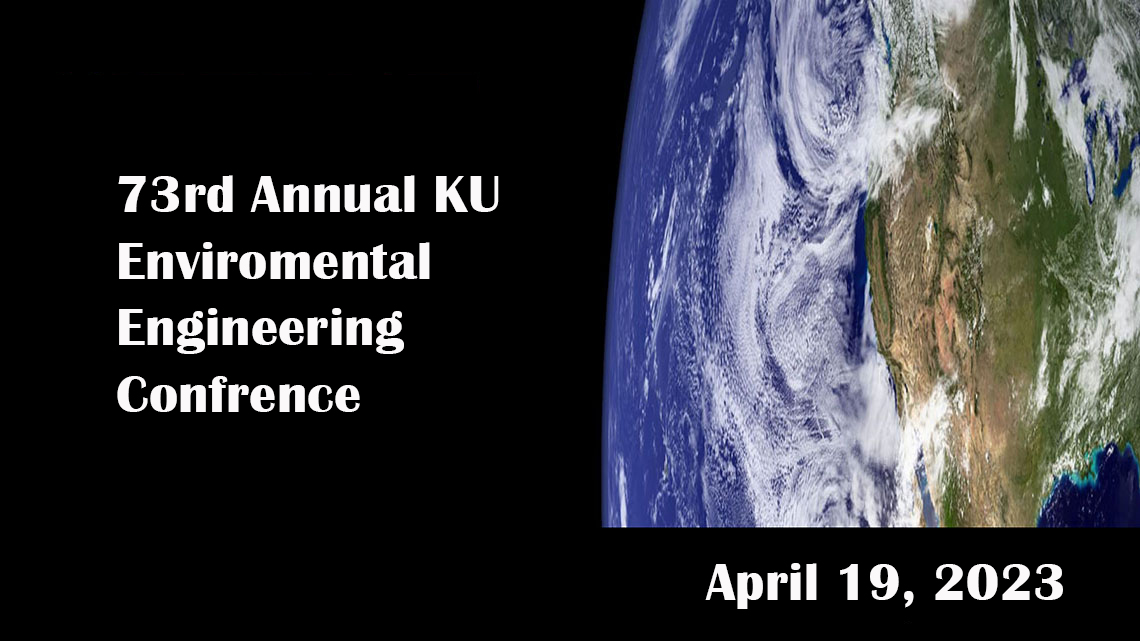 Attendee Registration Information
Attention: KS Dept. of Health & Environment employees will need to register using the state agency registration form (pdf) and emailing it to Waqas Rana at ceaeconf@ku.edu.
Registration Fee

Before

April 5

On/After

April 6

Full Registration 

(includes lunch, parking and refreshments)

$200
$220

Retiree Reduced Fee 

(includes lunch, parking and refreshments)

$100
$100
Full-time Students* (includes lunch)
$20
$20
Full-time Students* (does not include lunch)
Free
Free
KU Faculty*(includes lunch)
Free
Free
* Registration is required for all Attendees, KU students and KU faculty.
* Students registering for free will not receive PDH certificates for attending.  Any student needing PDH must register as a regular attendee for the event.
Conference Fees
Please register in advance.
In-person conference fee includes a registration packet with agenda, lunch, parking, and refreshment breaks.
Attendees with full registration must attend both the plenary session and an afternoon session to receive a certificate of participation for 6.5 contact hours (PDHs) of instruction that will be sent electronically after the event has completed.
Full-time students may attend the conference at no cost (lunch excluded), but registration is required.  High school students under 18 must be accompanied by an adult/guardian.
KU faculty are also able to attend the conference at no cost and should contact the Department of Civil, Environmental and Architectural Engineering (ceaeconf@ku.edu) and must register in advance of the event.
The registration desk will open April 19, 2023 at 7:30 a.m. – fifth floor of the KU Memorial Union (Google Map: KS Memorial Union)
Register by Mail or Phone
Please email CEAEconf@ku.edu or call Ronda Morgison at 785-864-5124.
Registration and Cancellation Policy
We encourage you to send a substitute if you cannot attend. A full refund of registration fees, less a $50 administrative fee, will be available if requested in writing and received at-least 7 days prior to the event. No refunds will be made after that date. A $30 fee also will be charged for returned checks. (Please note that if you fail to cancel by the deadline and do not attend, you are still responsible for payment.) KU CEAE reserves the right to cancel the Conference and return all fees in the event of insufficient registration. The liability of the University of Kansas is limited to the registration fee. The University of Kansas will not be responsible for any losses incurred by registrants, including but not limited to airline cancellation charges or hotel deposits.
Nondiscrimination Policy
The University of Kansas prohibits discrimination on the basis of race, color, ethnicity, religion, sex, national origin, age, ancestry, disability, status as a veteran, sexual orientation, marital status, parental status, gender identity, gender expression and genetic information in the University's programs and activities. The following person has been designated to handle inquiries regarding the non-discrimination policies: Director of the Office of Institutional Opportunity and Access, IOA@ku.edu, 1246 W. Campus Road, Room 153A, Lawrence, KS, 66045, 785-864-6414, 711 TTY.
Program Accessibility
We accommodate persons with disabilities. Please call 785-864-1033 or mark the space on the registration form, and a KU CEAE representative will contact you to discuss your needs. To ensure accommodation, please register at least two weeks before the start of the program. See the nondiscrimination policy above.
Privacy Policy
The Department of Civil, Environmental & Architectural Engineering does not share, sell, or rent its mailing lists. You have our assurance that any information you provide will be held in confidence by KU CEAE.
We occasionally use mailing lists that we have leased or obtained from another party. If you receive unwanted communications from Department of Civil, Environmental & Architectural Engineering, it may be because your name appears on a list we have acquired from another source. In this case, please accept our apologies.