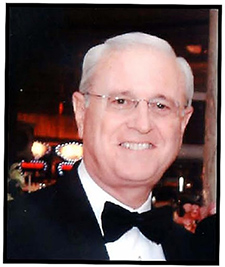 Tito Tiberti, retired president of J.A. Tiberti Construction in Las Vegas. 
Tiberti's lecture — titled "What's the Harm in Being Nice?" — will delve into unique approaches to problem solving, networking and the advantages of maintaining an agreeable demeanor.
"Just saying yes to somebody or being nice to somebody actually adds up to a lot of benefits that you might not realize at that moment," Tiberti said.  "You're not saying yes to accomplish one thing in one moment.  It's a whole attitude.  It networks you into things because you're really doing things for the right reason and they accumulate to you over time."

Tiberti will also present students with examples of real-world ethical dilemmas to highlight the challenges engineers face.

"The truth creeps up on you.  Perhaps you have a bloated resume, you have something from early in your career that's added to make you a more attractive job candidate, and then as you advance in your career, you don't correct it.  It will eventually catch up to you and cost you.  This happened to a close friend of mine and I will share his story," Tiberti said.  "You have to be avoid those pitfalls and be truthful from the beginning."

Tiberti said his goal is to provide students with knowledge that goes beyond the facts and figures presented in textbooks. 

"It's beneficial to talk with engineers about these types of situations where they don't have any experience or proclivity for," Tiberti said.  "With the education students get at KU, they'll be solid engineers. We have to make sure they don't get in trouble with simple things that go back thousands of years with truth and ethics."

The Tiberti family established the J.A. Tiberti lecture series in conjunction with the Department of Civil, Environmental and Architectural Engineering in 2011 with a $100,000 gift to KU Endowment.  The series honors Tito's father, Jelindo Angelo Tiberti, who in 1950 founded J. A. Tiberti Construction Company in Las Vegas. Under his leadership, the firm became a major player in construction projects throughout Las Vegas and southern Nevada.