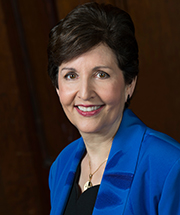 Robin Kemper is a past president of the American Society of Civil Engineers will give this year's J.A. Tiberti Family Lecture  at the University of Kansas School of Engineering.
Robin Kemper, a risk engineer with Zurich North America in New Jersey, served as ASCE president in 2019. Kemper will speak at 2:30 p.m. Oct. 14 in the Spahr Engineering Classroom in Eaton Hall.
Kemper said her lecture will encourage KU's engineering students to step outside their comfort zones to maximize their careers.
"It's all about the ask," she said. "If you want to do things in life, you need to ask for them — and if people ask you to do things, you need to say yes."
Kemper has more than 35 years of experience as a structural engineer. Her current work includes providing technical support to construction project policies, developing best practices and investigating losses on construction projects. She has also served on the Board of Directors of Engineers Without Borders as well as the Civil Engineering Industrial Advisory Board of Rensselaer Polytechnic Institute, her alma mater. She is currently a member of the civil engineering industrial advisory boards for Rutgers University and the College of New Jersey.
"You almost never lose — I'm not going to say never — if you ask for what you want," she said, previewing her lecture. "No one's going to care more about yourself than you will. A lot of engineers are introverted, but to get to where you want to go in life you sometimes have to put yourself out there."
Saying "yes" is also important, Kemper added. "You never know where it's going to lead," she said. "You have to be able to take some of those risks."